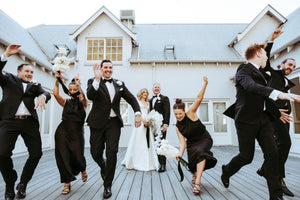 Let go of the stress that comes
with wedding planning!
Oh hey there! Are you (or is someone close to you) about to embark on the journey of planning a wedding?
Firstly, congratulations! We are so excited for you!
With over 20 years experience in the wedding industry, we know all about the wedding planning thought process and have no doubt you're currently spending hours trawling the internet searching for answers to your questions such as:
How do I plan a wedding step by-step?
How do I plan a wedding without hiring a wedding planner?
What's the best wedding planning checklist?
You can stop looking! We have taken our decades of experience and condensed it in to 130 pages of wedding planning and organisational goodness. Let us introduce you to the Paper & Ink Personalised Wedding Planner and Organiser File!
Let customers speak for us
Why you'll love the Paper & Ink Personalised Wedding Planner and Organiser File:
Designed with meticulous attention to detail, our wedding planner is packed with features to ensure every aspect of your special day is flawlessly planned and executed. Some of the things you'll love most: 
No detail of your wedding day will be left unattended. With a focus on ease and organisation, our planner includes over 130 pages of valuable information, checklists, schedules, and dedicated areas for note-taking. 
Choose from a stunning array of cover designs that perfectly capture your wedding style. From classic designs to unique themes, our planner embraces diversity and offers guidance for every couple's vision.
Our planner caters to all types of weddings and celebrations of love. We believe in love and inclusivity, and are proud to offer a same-sex version of the planner. Thoughtfully designed to reflect the unique experiences and needs of same-sex couples, our planners ensure that every aspect of your wedding planning is personalized and inclusive.
More than the 1 day.  We've even included sections for pre-wedding events, honeymoon planning, and instructions on how to navigate the name-changing process.
Easy and convenient storage. Our large ring folder file with 25 divided sections means no more searching through stacks of papers or scattered notes. 
Practically perfect for Australian weddings. There's no need to convert units of measurement or second guess seasons. Our planner is made in Australia and is full of local knowledge and tips. 
More than a planner. The most incredible thing about our planner is the guidance it gives you along the way. You'll have the Paper & Ink team in your corner while planning your wedding and all our thoughts and suggestions along the way.